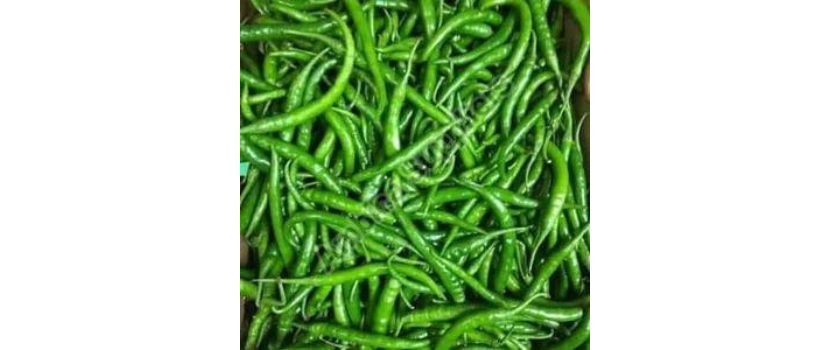 G4 Green Chili is a hybrid cultivar of chili pepper, originating in the Southwestern United States. It is a medium to ‌hot variety of chili pepper that is commonly used in cooking. This cultivar is known for its bright green color and its medium to large size, making it a popular choice for many dishes.
The heat level of the G4 Green Chili ranges from 3,000 to 8,000 Scoville units, which is moderate to hot compared to other chili peppers. The flavor is described as having a slightly sweet taste with a warm heat, making it a popular ingredient for a variety of cuisines, including Mexican, Tex-Mex, and Southwest American.
G4 Green Chili: The Complete List of Nutrients
Green chili peppers, including the G4 variety, are a rich source of nutrients and have several potential health benefits. Some of the key health benefits of consuming green chili peppers are:

•Rich in Vitamin C: Green chili peppers are high in vitamin C, which helps boost the immune system and prevent infections.

•Antioxidant Properties: The capsaicin in chili peppers acts as an antioxidant, helping to neutralize harmful free radicals in the body.

•Pain Relief: Capsaicin is also believed to have pain-relieving properties, making green chili peppers a popular ingredient in natural pain remedies.

•Weight Management: Green chili peppers have a low-calorie count and can help increase metabolism, making them a great addition to a weight management diet.

•Improved Heart Health: The capsaicin in chili peppers has been shown to reduce blood cholesterol levels and improve blood circulation, helping to reduce the risk of heart disease.

•Anti-Inflammatory Properties: Green chili peppers have anti-inflammatory properties that can help reduce inflammation in the body and reduce the risk of chronic diseases.
It's important to note that although green chili peppers have many health benefits, they should be consumed in moderation as they can be irritants to the digestive system for some people. It can also cause mouth and throat irritation, stomach upset, and even ulcers.


Expert Tips For Buying Quality G4 Green Chilies

A few tips that will come in handy while buying the best quality G4 green chilies:
•Look for freshness: Look for bright green chilies that are firm to the touch, without any wrinkles, spots, or mold.

•Size and color: The size and color of the chili can indicate its ripeness. Generally, larger and more mature chilies are milder, while smaller, lighter green ones tend to be spicier.

•Buy in season: Buy green chili when it's in the season to make sure that it's the freshest and of its best quality.

•Check the packaging: Make sure the packaging is tight and free of any signs of damage or spoilage. Only reputed G4 green chilli suppliers will provide quality packaging.

•Purchase from a trusted source: Buy from a trusted and reputable store or market to ensure that the green chili you purchase is of the highest quality.

Here are some tips to help you find the best supplier for green chili:
•Research: Do some research on different green chili suppliers in your area. Look for information about their reputation, quality of products, and customer reviews.

•Check for certifications: Look for suppliers who are certified by relevant agriculture and food safety organizations, such as the Global Good Agricultural Practices (GAP) or Food Safety Management Systems (FSMS).

•Compare prices: Get quotes from multiple suppliers to compare prices and ensure you're getting the best value for your money.

•Evaluate the product: Ask for samples or visit the supplier's facility to evaluate the quality of their green chili and ensure it meets your standards.
Make sure to pick the best G4 green chili suppliers to get a high-quality product that will add value to your nutrition.